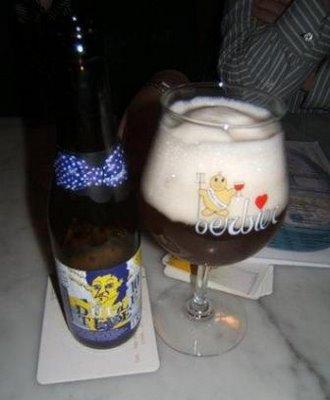 A series of beers reviewed by Michael follows for the next couple of days. This will give us the chance to try and drink some more for you.

Text and photo: Michael
Website/ blog:
Having tried De Dolle Brouwers Oerbier (
beer no. 32
), and the Arabier (
beer no. 33
) at Paters Vaetje, the next one on the list was Dulle Teve. This translates to "Mad Bitch". I have to say, whether intentional or not, just the name of this beer emits a sense of fun. It poured an Amber color with quite a large head (although this could have been as a result of the previous two beers!). It is a very fruity and mildly sweet drink, whose 10% abv does not really hit you until to you stand up. An Excellent beer.